What Makes Luxury Condos Different from Typical Condos
When it comes to luxury condos for sale near Ortigas, Pasig, the distinction lies in the unparalleled attention to detail, design, and amenities that elevate your lifestyle.

Prime and Sought-After Locations
Luxury condos for sale near Ortigas, Pasig are often located in prime, sought-after areas such as upscale neighborhoods or near iconic urban centers. The location is a significant factor in determining the value and appeal of this kind of condo.

Built and Designed by Renowned Architects
These condos are built with high-quality materials and designed by renowned architects or interior designers. The attention to detail and craftsmanship in these condos is often superior to other condominiums on the market.
State-of-the-Art Amenities
Upscale condos offer an extensive range of top-tier amenities to enhance the residents' lifestyle. These can include state-of-the-art fitness centers, swimming pools, concierge services, private elevators, well-appointed lounges, and more.
The Different Types of Condos at Laya by Shang Properties
Laya by Shang Properties offers a selection of meticulously designed luxury condos for sale near Ortigas. Pasig, ensuring that you find a home that suits your needs and preferences
Studio
With a generous 33-35 sqm of space, our studio units offer a harmonious blend of comfort and functionality, making them the perfect choice for professionals seeking a cozy retreat within the dynamic metropolis. Experience a space where every element is meticulously crafted to prioritize your comfort.
Each unit boasts space for a dining room, living room, kitchen, bedroom, and bathroom, seamlessly integrated to cater to your modern lifestyle. These compact yet inviting spaces provide the balance you need between work and relaxation.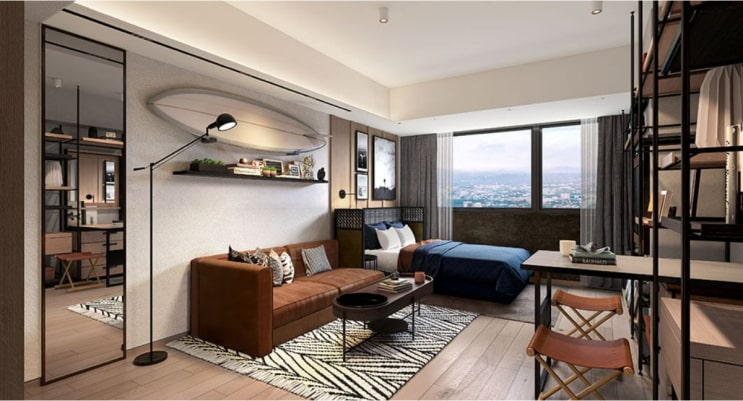 1-Bedroom
Tailored for young professionals or couples, Laya's one-bedroom units span approximately 38-84 sqm (409-904 sq ft) and seamlessly blend style with functionality. 
Featuring a well-designed kitchen for culinary pursuits, a dining and living area for connection, and a cozy balcony of about 5-10 sqm (53-107 sq ft) for outdoor moments. The serene bedroom boasts a spacious walk-in closet and an elegantly designed bathroom. Set in the city's heart, these units offer a snug retreat reflecting your urban lifestyle.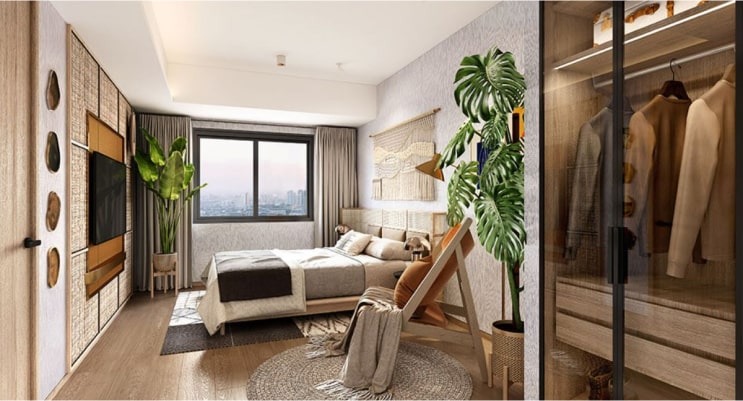 2-Bedroom
Laya's two-bedroom units seamlessly blend style and functionality. With an ample space of about 91-108 sqm (979-1162 sq ft), these units cater to growing families or individuals seeking extra room. 
Picture distinct zones for dining and living, a well-equipped kitchen and utility room, a beautifully designed main bathroom, an ensuite bathroom, a walk-in closet, and two bedrooms - one of which can double as a workspace, guest room, or personal haven. The two balconies, offering an additional 8-13 sqm (86-130 sq ft) of space, enhances your living experience within the city's heart.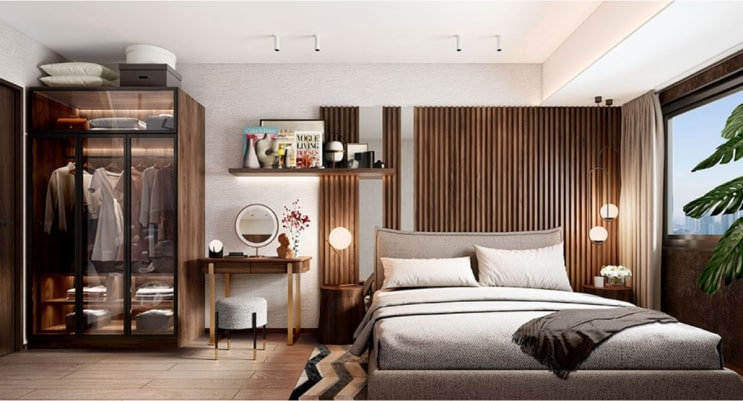 3-Bedroom
Laya's three-bedroom units span an expansive 145-149 sqm (1560-1603 sq ft), inclusive of two exquisite balconies that contribute an extra 13 sqm (139 sq ft). Enter these luxury condos near Ortigas, Pasig to find a meticulously planned layout encompassing a welcoming foyer, expansive living & dining areas, a fully equipped kitchen, a master bedroom with an ensuite bathroom, and two additional bedrooms.
Also nestled within this unit are two additional bathrooms, a utility room, and a powder room that adds a delightful touch to this lavish offering. At Laya, each three-bedroom unit is not just a residence but a haven that nurtures your family, catering flawlessly to your needs and desires.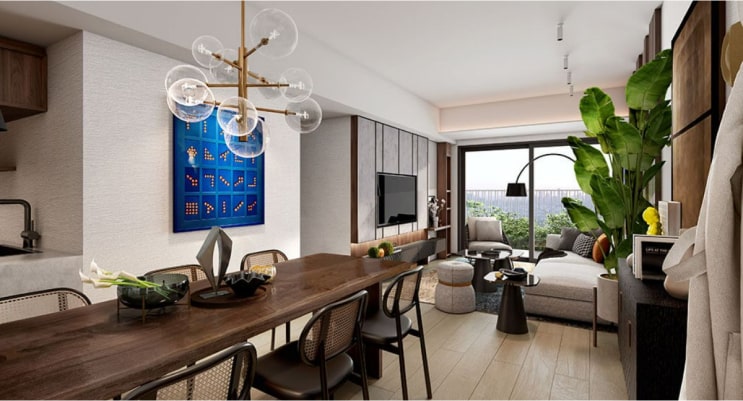 Why Choose Laya by Shang Properties for a Luxury Condo for Sale Near Ortigas Pasig
Laya by Shang Properties is an inviting haven for those seeking a luxury condo for sale near Ortigas, Pasig.  Immerse yourself in a world where thoughtful design, convenience, and exceptional amenities converge to redefine urban living. Opting for Laya by Shang Properties means embracing a lifestyle of elegance, community, and enriching experiences. With a commitment to excellence, we elevate every aspect of urban life.

Spaces Designed for Comfort
Laya by Shang Properties seamlessly marries meticulous design with cozy comfort. Each unit is thoughtfully curated, showcasing a perfect harmony of aesthetics and functionality. Every nook is carefully arranged to enhance your comfort, creating a fluid and delightful living experience within these welcoming surroundings.

The Heart of Convenience
Nestled at the heart of the city's rhythm, Laya's luxury condo for sale in Ortigas, Pasig puts top-tier shopping centers, gourmet dining destinations, and dynamic entertainment hubs just steps away. This prime location offers an urban lifestyle that's both accessible and exhilarating, enhancing your everyday experience.
Health and Wellness at Your Fingertips
Laya prioritizes your health and wellness, providing access to state-of-the-art fitness facilities and wellness centers. Immerse yourself in an array of recreational activities meticulously designed to keep you invigorated, active, and aligned with your health aspirations.

Embrace Freedom, Live Inspired
Laya celebrates individuality, allowing you to express your unique lifestyle. Whether it's hosting gatherings in your spacious living area or finding solace in a private nook, Laya empowers you to live life on your terms with its many spaces for your needs.

Opportunity for the Future
Investing in a luxury condo for sale near Ortigas, Pasig at Laya by Shang Properties is not just a purchase; it's an investment in your future. Benefit from the long-term value appreciation and stability that comes with owning a prestigious property.

Legacy of Excellence
Laya is developed by Shang Properties, a name synonymous with luxury, mastery, and attention to detail in the real estate industry. Join a community built on a legacy of delivering premium living spaces.